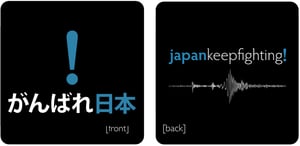 $

20.00
"Ganbare Nippon" is a Japanese term of endearment. Often chanted at sporting events, it is now used as a phrase of compassion and endearment.
Loosely translated, it means "Keep fighting, Japan!"
$10 production, $10 donation to Doctors Without Borders
Printed on 100% Fair Trade, Organic Cotton. Made for you by the women at Freeset, Kolkata, India.
Ships in 2-3 weeks
Note: These are adult men's sizes. Please order accordingly.